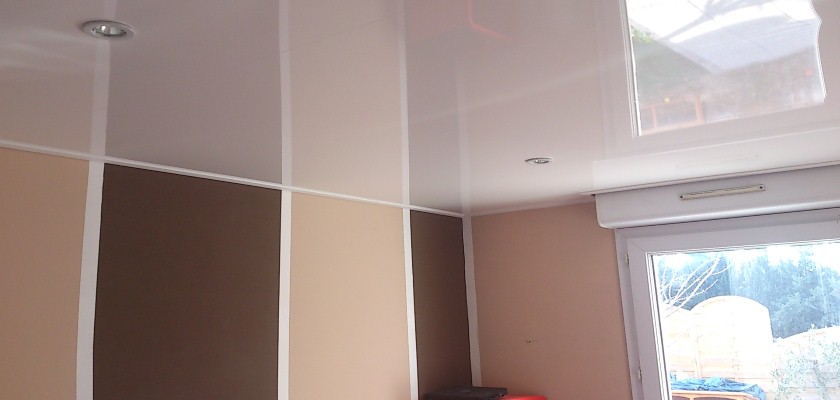 Naturally, when you enter a room, your eyes first focus on the furniture and floor.
With a mirror lacquered membrane, everybody will notice your ceiling right away
and their first reaction will be:
.
"WHAT AN AWESOME CEILING" !!!
.
The main advantage of using Batica-Renov Stretch Ceiling is the end result: a beautiful smooth surface that can elegantly accent any « décor ».
The Stretch Ceiling can be successfully used in any new construction, renovation, design and decoration project, as an alternative or a complement.
The Stretch Ceiling track is made of PVC or Aluminium and is installed on the wall less than 1 inch below your actual ceiling or directly on it, depending on the configuration you requested.
It will be mounted over your existing ceiling, without removing the drywall or any other ceiling material.
The Batica-Renov Stretch Ceiling system is much easier to install than any other types, such as drywall and suspended ceiling. The Stretch Ceiling System may be installed anywhere: Single family homes, condos, boats, hotels, motels, hospitals, theaters, airports, offices, stores, labs and even indoor pool areas.
.
There are no limits or restrictions for this product
.
The Stretch Ceiling Film Membrane already comes in a multitude of styles and patterns to choose from but, can also be custom UV printed (brand new technology) with your very own design or photo.  Besides, it is anti-static, non-allergenic, non toxic, eco-friendly, hence safe both for the environment and your health, as well as quite practical by being washable, entirely waterproof and maintenance free.
.
Advantages:

– Never, ever, have to paint your ceiling again
– No more peels, flakes or cracks
– No more stains on the ceiling or color fading overtime
.
The Stretch Ceiling products can usually be installed in just a single day, thus avoiding all the inconveniences of a ceiling renovation (furniture moving, mandatory paint dry time, odor, sanding and dust, etc.). This is especially interesting for any type of business that cannot stop their operations for an extended period of time.
The Stretch Ceiling Film Membrane can be UV printed using Eco-Solvent, we also have hundreds of art prints to choose from in our catalogues.
The Stretch Ceiling is very resistent and, in case of accidental flooding, the membrane can hold up to about 26 gallons of water per 10 square feet.
It's 100% fire proof and UL approved, as well as 100% recyclable.
The Stretch Ceiling Film is 0.0071 inches thin (0.18mm or 18/100mm).
The Stretch Ceiling comes with a 10-year warranty on harpoon welding.

.
Our company exclusively uses the highest quality European materials, highly regarded in the industry and approved for years in the installation process. These materials are fully compliant and meet all major INTERNATIONAL quality and safety requirements, including UL standards.
Our main European partners are quite well-known PVC film manufacturers, such as:
RENOLIT AG, ALKOR DRAKA, SEF.

.
.
.
…
Some examples of the Batica-Renov Stretch Ceiling Tracks :
.
.
Our systems were designed to meet any technical requirement
.
What can be incorporated in the Batica-Renov Stretch Ceiling:
Spot light mounting


Light fittings

Sensors

Air vents

A/C vents

Sprinklers

Smoke detectors
.
.
Batica Renov USA – Batica Renov France
Christian Pollini
786.334.0392
ceilingmiami@gmail.com